Thirty-one years and ten thousand invoices – Becker Associates Milestones
Becker Associates marks two significant milestones this week with the celebration of thirty-one years in business and the issuing of our ten thousandth invoice.
Becker Associates, formerly Publishing and Printing Services, was started by Gwenne Becker in July 1980, opening its doors on July 15 1980, with five employees. The previous spring had introduced Gwenne to a number of opportunities in new technological developments that have given Becker Associates its foundational philosophy. The history of the company has coincided with the seismic changes in desktop publishing, scholarly publications, and association management. We continue to build on Gwenne's foresight.
The personal computer had just been introduced. Gwenne was immediately captured by the possibility of using computers to perform many sales and business functions, including improving the efficiency with which publications were produced and distributed. Up until then, when a manuscript was ready to go to press, it had to be re-keyed by the typesetter and then proofed for a second time.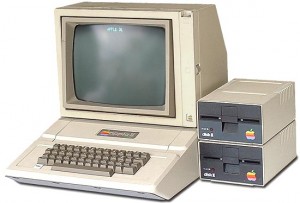 The Becker Associates first PC was an Apple II with a whopping 48K of in-machine memory. It had been on the market for only a year, and software developers were hard at work creating programs. It had two drives – one for the program and one for the data.
At about the same time, Gwenne was introduced to a typesetting machine that could read data from a word processing program, thereby eliminating the unnecessary task of re-entering the information. She became excited by the potential that this new technology had to transform the publication industry.
Then through the first telephone transmissions, it was possible to get documents and files over the phone, saving even more time. Becker Associates was also at the forefront of electronic data transmission when email was still restricted to the domain of universities and the military. With a telephone headset firmly placed in a desktop acoustic coupler, we received word processing files from clients at the rate of less than 300 bits per second or 0.0000357 MB per second. Compare this to the rate of 41,943,040 bits per second of today's domestic high-speed Internet connections.
In 1983, Gwenne purchased a sixty-dollar add-on to an IBM Selectric typewriter that, when connected to a personal computer, would pull and tug on various levers, and type out requested text, long before laser printers became an option to print letter-quality correspondence.
The 1980s also saw many changes in typesetting technologies. Each generation of machine became smaller and smaller. The change was rapid to software programs running on microcomputers, from desk-sized units. complete with photo-processing boxes that would produce strips of text on photo paper, to be laid out on wax boards, to the desktop programs of today connecting to data sources all over the Internet, mashing it up and repurposing it in myriad ways.
Various family members have worked on and off with the company. Paul Becker, the youngest of John and Gwenne's three children, worked as the production manager during the 1990s. That decade also brought an expansion to the association management side, when John Becker joined the company after an extensive career as a York University senior executive. Through this phase of the company development, we were able to offer an expanded set of services that included secretariat, management, and financial services, and attracted new clients to the Becker Associates stable.
In our thirty-one years, we have been located in four offices. With the exception of a few years away, Robert Fletcher has been with the company since the beginning. John Becker retired in December 2005. The family and staff mourned his loss in September 2010. Gwenne retired from being actively involved in the company when Adam Becker became president in January 2009.
Becker Associates evolved to keep current, and this has driven a number of transformations. We now define ourselves as an association management company with five full and part-time experienced and dedicated people including Christina Becker, vice-president, association management and consulting; Tammy Gunn and Alison Shenfield, association managers; and Bruce Felstead, accountant and comptroller. Under Adam's leadership, significant technological improvements to the way services are offered have been made, including online payment processing and online conference management. The company is leading the way through changing ways of handling and sharing information – both for publications and for membership and event registrations.
If you are not already aware of our services in online membership forms and conference registrations, consulting, board development, online publishing, website development, general secretariat, or accounting and membership services, please contact us and we would be happy to outline what we can do in partnership with you.