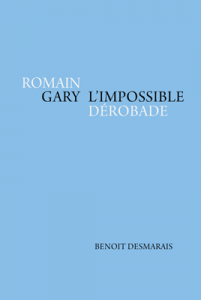 Becker Associates has just published a new title: Romain Gary: L'impossible dérobade (ISBN : 978-0-919387-61-4) by Benoit Desmarais.
The book
Lecture de l'oeuvre de Romain Gary autour des thèmes de la clandestinité, du "coming out" de Roman Kacew (alias Gary) via Gros-Câlin signé Ajar.
From the back cover
– Ce que je voudrais être ?
– Romain Gary, mais c'est impossible.

En 1967, lorsque Romain Gary fit cette réponse en forme de boutade au questionnaire de Proust, il éclairait pourtant un problème qu'il résuma dans la toute dernière phrase de La promesse de l'aube : «J'ai vécu.» Une phrase écrite au passé composé, littéralement, puisque ce roman autobiographique raconte la vie de Roman Kacew tentant par tous les moyens et sous les imprécations de sa mère, de devenir Romain Gary.

Dans Vie et mort d'Émile Ajar, Gary expliquait en partie l'aventure existentielle de la création de l'œuvre qu'il signa sous le nom d'Ajar par son horreur du «une fois pour toutes». Le présent ouvrage se propose de montrer comment Roman Kacew, devenu Romain Gary, se condamna lui-même au «une fois pour toutes» en faisant de sa propre vie un roman, La promesse de l'aube, le plus connu et le plus célébré de toute son œuvre. L'écriture de Gros-Câlin, alors qu'Ajar n'existait pas encore, fut la seconde chance que se donna Roman Kacew d'exister. En donnant ce livre à un autre qu'il nomma Ajar, Kacew se condamna de nouveau à la clandestinité. Il ne lui restait plus qu'à tenter de se maintenir dans un impossible équilibre, sans se dérober, entre Gary et Ajar, entre «celui que je n'étais pas et celui que je ne voulais pas être».
Available in paperback and an e-pub is coming. If you wish the e-pub now, please feel to email us.
For more information and extracts, visit the book's web page.
Follow the book on Facebook.