We had an inspiring and impactful year at Becker Associates thanks to our employees, clients, and partners. Here's a look at some of the highlights…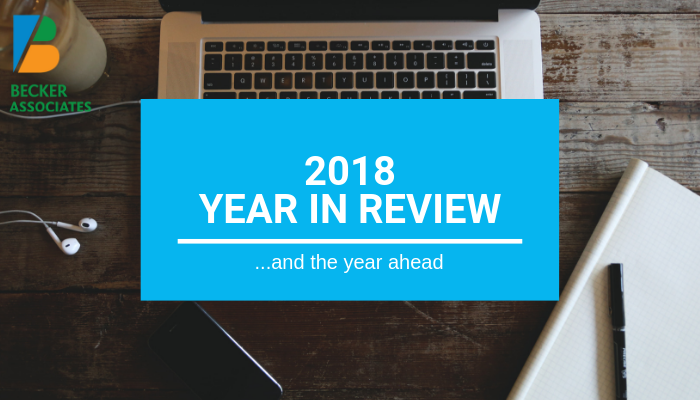 7,000+ Registrations
Thousands of online membership applications, exam bookings, event registrations, subscriptions, and conference proposals went through The Association Panel (TAP©).
35 Client Events
3 AGMs, 3 international meetings, one 1,000+ attendee conference, plus many more professional development and social events. We've been busy!
400+ E-Blasts
Every week Jedd and Seamus are curating mass emails out for our clients in professional, aesthetically pleasing formats. Membership communications, journal notifications, event reminders, and much more
3 Board Development Workshops
Christina Becker was busy in 2018. One major project with an association suffering from stagnation due to board conflict was particularly challenging. Using a combination the circle process and board training, the board was able to find some common ground to work together as they moved forward. Want to see if Christina can help your board improve processes and communication, and be more efficient and effective? Drop her a line.
100+ Academic Papers Published
Both in print or online, we've helped our clients publish over 100 papers through our production and mailing services in English and French. These include Canadian Journal for Psychotherapy, Early Theatre, Intersections, and Urban History Review. More about our publishing services.
5 New Clients
From consulting projects to a new AMC service contract, we have expanded the number of organizations we are helping in a handful of ways. We thrilled to have these associations as part of the Becker Associates community! More about our consulting services.
50+ Hours of online education development
Christina's been working on a 7-module comprehensive custom online training and coaching program for nonprofit boards of directors. Board on Board organizations have a dedicated coach who is available at every step of the training program and be available for all your major governance challenges. Board members can access the course on their own time and take it at their own speed. No need to try to schedule a time when everyone is available to attend a training. Look for its launch soon! Want to hear more about it, please drop Christina a line.
100+ Hours of Web Development
We are constantly adding to and improving our online forms and The Association Panel (TAP©) to be more useful to our clients. Some improvements included: adding two click login directly from our purchase forms; streamlining our month-end reconciliations; adding an "Abstract Review" workflow to our conference proposal system; and building out custom accounting reports in TAP©. More about our development and social media services.
90 Countries Served
We managed clients with members in over 90 countries and handled 6 bilingual websites; making the team feel quite worldly, indeed!
1 New Staff Person
We welcomed Emily Conlon as full-time this last fall after working on various individual projects for a year. It is a genuine pleasure to have her on the team!
8 PDs Attended
Never ones to sit on our laurels, staff at Becker Associates attended 8 industry events or webinars to better our game in serving our clients. GDPR, better email workflows, membership engagement, associations and technology, and online education!
Coming in 2019!
We have been completely rebuilding our online forms and The Association Panel (TAP©) to be more efficient, customizable and secure. We are rolling this out gradually to our clients over 2019 and 2020. Want more information? Drop us a line.
We hold the deepest appreciation for our clients and their dedicated volunteers; you make our work exciting and rewarding!
Adam, Christina, Seamus, Ryan, Jedd, Emily