John Adams Becker 1932–2010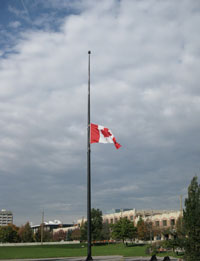 We honour the passing of a loving husband, father, mentor, and friend on Wednesday September 22, 2010.
John had passion, commitment, and an ethic of making a difference. As well as university administration, he devoted much of his life energy to volunteer work.
During his years at the University of Toronto (SPS 5T5) and after, Hart House was important to him, first as a member of the Finnish Exchange then as Undergraduate Secretary. He followed with administrative careers at McMaster and York Universities from which he retired in 1989. John spent over 20 years at York and developed long-term friendships that continued into retirement. The York community was a passion and retirement begged the question "was there life after York?"
He did find a life after retirement. He worked in the family firm, Becker Associates, and steered it in new directions. He also indulged his love of researching family trees, and developed his skill in water-colour painting. Recently he was volunteer editor of Families, the journal of the Ontario Genealogical Society.
John's prostate cancer first diagnosed in 1997 was kept in check by the wizards at Princess Margaret Hospital. Only in early 2010 did symptoms begin. During the last weeks he was in the Palliative Care Unit at PMH. Our heartfelt thanks to the loving staff for the comfort they provided to John and us.
John leaves his loving wife of 54 years and best friend, Gwenne (née Belsten), daughter Christina, and sons Adam (Benoit Desmarais), and Paul (Christian Garate), grandchildren Carolina, Max, and Lorraine. He also leaves his brother Dean (Lois Kelly Becker) and twin brother Keith (Neil Macvicar).
The absence of his energy, good humour, and caring will leave a large hole in our lives.
A private family service and cremation have taken place. A celebration of John's life will be held at Trinity St. Paul's, 427 Bloor St. West, Toronto from 3:00 to 6:00 p.m. on Wednesday, October 13th. The family suggests that any donations in John's memory be made to the Hart House Finnish Exchange, University of Toronto.